LG Series controllers connect to all LaserGauge® USB Sensors to provide a larger display of data that is more portable and rugged than a laptop.
LG Controllers have a high-resolution color display, and both a touch screen and joystick for alternative methods of interface. Data can be sent and received over USB. Measurement data and scan images are saved to the on-board memory, and can be analyzed on the controller or transferred to a computer via a USB cable and Windows™ drag and drop functions, a wireless ZigBee module or a USB thumb drive. Processing power and user functionality are provided by the controller.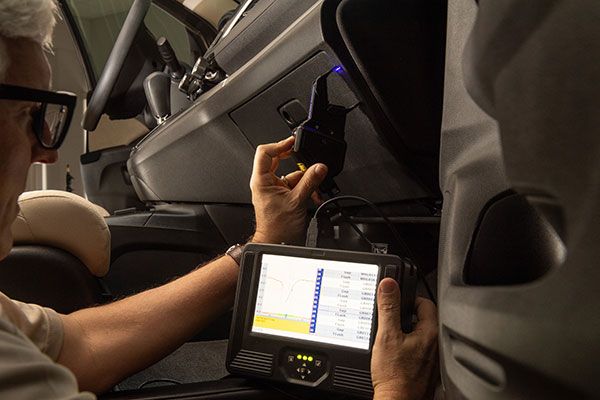 Features of LG Controllers include:
User Interface
A touch screen provides a quick and easy way to navigate menus and select options. The keypad and joystick also provide full selection functionality for environments not suited to touch screen use. Menus are organized in a flat tab format so that selections can be made quickly. Screen layouts can be configured according to the user's preference.
4 Way Rotational Screen
The controller display can be rotated 90 degrees, depending on your desired viewing orientation. The operator can set their individual preference to left hand or right-hand operation, as well as vertical with the screen up or down.
Battery Powered
A rechargeable, lithium-ion battery provides power for hours of continuous operation. An on-screen fuel gauge shows the charge remaining in the battery. An external charger can be used to recharge the battery, or AC power can be connected to the controller and the battery will charge while the controller is in use (LG7000 only).
Barcode Scanner
An integrated barcode scanner allows the operator to scan a barcode on the part or on the assembly being inspected, and the barcode will be recorded in the data file for automatic traceability to the inspection results. The operator no longer has to manually enter trace information, such as a serial number or VIN. The barcode reader supports many barcode formats.
LG Controller Models and Specifications
Two models of LG Controllers are available, the LG5000 and LG7000. All features are common to each. The LG5000 has a 3.5" screen size. The LG7000 has a larger 7" screen size, and is also able to use an AC adaptor, unlike the LG5000.
|   | LG5000 | LG7000 |
| --- | --- | --- |
| Size | 6.5" (w) x 2.4" (d) x 3.6" (h) | 8.4" (w) x 1.8" (d) x 6.3" (h) |
| Weight | 1.26 lbs with battery | 2.06 lbs with battery |
| Display | 800(H) x 480(V) x 256 colors, 3.5" display with touchscreen | 800(H) x 480(V) x 256 colors, 7" display with touchscreen |
| Powered by AC Power Supply | N/A | Yes |
Specifications Common to Both Models
Gauge only or Gauge and Routine

Cast Urethane case with reinforced mounts

8 Gbytes of data/scans/routines

2 multi-function buttons, 5-way joy stick

USB 2.0 ports (2x Type A, 1x Mini-B)

LGWorks, Windows™ compatible

User-defined, flexible ASCII text format, readable with most off-the-shelf text and spreadsheet applications
Any LG Controller comes standard with the following accessories:
2 ea high-capacity batteries
1 ea battery charger, ac adaptor, power cord
1 ea 6' USB 2.0A to 5-pin mini B
1 ea ZigBee® USB IEEE 802.15.4 communication module
1 ea hard copy user manual
USB flash drive containing LGTools communications software
Carrying Case
Padded Shoulder Strap (LG7000 only)
1 yr warranty on hardware and software
Packing List
Included Software
LGTools – this application sends, retrieves, and formats data from a computer to the DSP Sensor via USB cable or ZigBee.