HS761 and HS763 Cross-Vector Laser Sensors are used exclusively for capturing gap/flush measurements as they can see around edges to accurately create a complete surface profile.
Traditional laser profilers utilize a single stripe laser stripe coupled with a single imager to capture surface scans. But a single view cannot see surface points around the radius on the edge of the gap.
Cross-Vector sensors utilize lasers angled toward the inside edges of the gap, crossing in the middle. This allows the sensor to see around edges of the radius to the vertical tangent and beyond. The result is a complete surface profile and the most accurate gap measurements.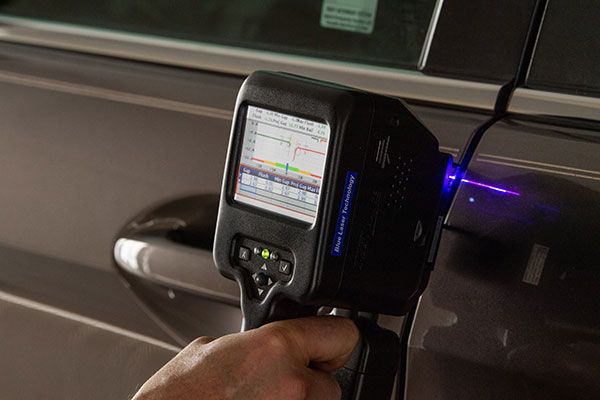 Learn more about the HS761 & HS763 Cross-Vector Laser Sensors:
The HS761 and HS763 utilize two different Cross-Vector scanning methods to measure gap/flush on different types of materials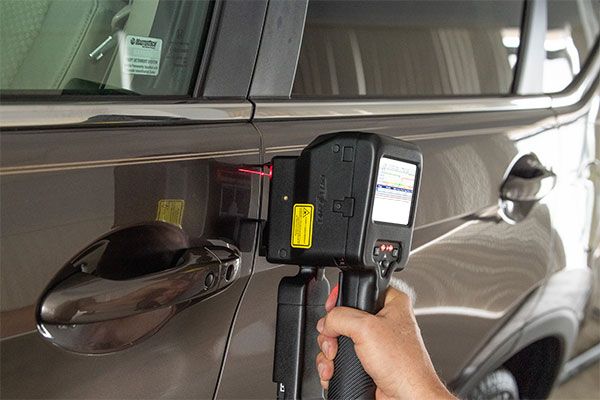 The HS761 features 3 Red Cross-Vector lasers that provide the most accurate measurement of gap/flush applications on automotive body panels
The 3 lasers cycle sequentially to get sub-scans from each view, then combine those sub-scans to make a complete scan.
Takes 2+ seconds to obtain a measurement
Somewhat more affected by sensor movement during scanning
Only measures on opaque materials such as metal, paint, some plastic, and some composite material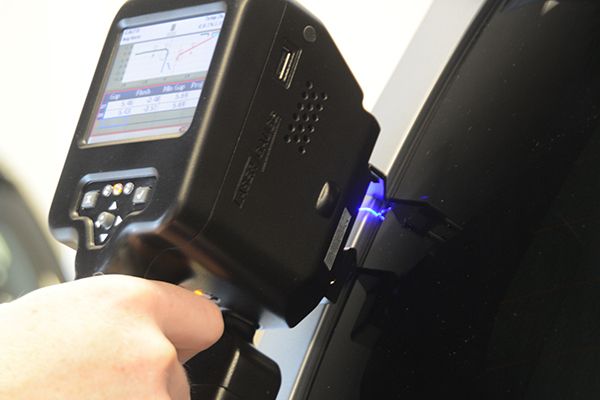 The HS763 features 2 Blue Cross-Vector Lasers that provide the most accurate measurement of gap/flush applications on automotive body panels as well as chrome, opaque, and transparent materials
The two lasers obtain the subscans simultaneously, resulting in a much faster scan and less susceptibility to sensor movement during scanning. The blue laser makes the HS763 perfect for measuring gap/flush around body panels, split taillights, windshields, clear headlights and chrome.
Takes 0.5-0.75 seconds to obtain a measurement
Less sensitive to sensor movement during scanning
Measures chrome, opaque materials and transparent materials (headlamps, window glass, tail lights, marker lights, composite, plastics, glue beads, seals)
Features common to both sensors include:
1500 scan points over sensor field-of-view
1 GHz DSP processor – measurements are completed in as little as ½ second in the HS763.
Totally self-contained – no need for external PC or cables for operation
Automatic gain optimization – scanning on wide variety of colors/finishes
External USB port for interfacing to a USB sensor such as the TS800. The DSP sensor becomes a controller for the sensor.
Both the HS761 and HS763 come configured with an internal barcode scanner capable of scanning linear (code 39/128 or UPC), QR and Data Matrix codes so that the data can easily be tied to the barcode for traceability.
FIELD OF VIEW & LASER OPTIONS
Field of View Options
Both the HS761 and HS763 come with a 1.5" field-of-view (or scan width) option.
| FOV Option | Field-of-View | Horizontal Scanning Resolution | Depth-of-Focus | Depth Accuracy |
| --- | --- | --- | --- | --- |
| -F24 | 1.5" (38mm) | 0.0012" (30µm) | ±0.3" (7.5mm) | ± 0.0010" (25µm) |
Scanning Technology
HS761 and HS763 Sensor models are available with Red and Blue Cross Vector Scanning technology.
Laser Safety Warning Labels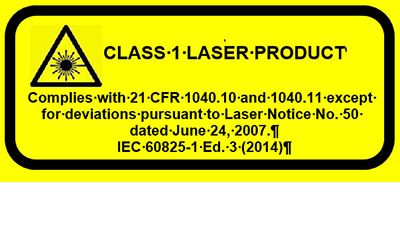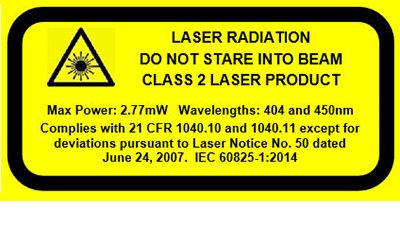 Virtual Gauges that come with the HS761 and HS763
"Virtual Gauges" are the mathematical algorithms used to process a scan and extract measurements from it. The following Standard Virtual Gauges are provided as a part of the preloaded configuration for both the HS761 and HS763:
Step/Angle
Fasteners
Pits, dents, gouges
Scratches
Butt Weld
Custom Virtual Gauges can be developed/created according to customer requirements and measurement methodology upon request.
Measurement output includes numerical and graphical displays as well as auditory feedback
Display Output
Numerical and graphical results are displayed and can indicate in- or out-of-spec conditions. Operation feedback is provided to assist the operator in obtaining the best measurements.
Auditory Output
A variable volume speaker will sound different tones to indicate in- or out-of-spec measurements, errors or misreads, and low battery.
Data Output
All processed scans and the extracted measurements are automatically saved to the sensor memory for later retrieval. When the sensor is plugged into a PC it will map the data memory as a drive, much like a USB memory stick so that retrieving files is fast and easy.
HS761 & HS763 Specifications
| | HS761 | HS763 |
| --- | --- | --- |
| Size | 3.6" (w) x 4.5" (h) x 10.1" (l) | 3.6" (w) x 5.9"(h) x 10.1" (l) |
| Weight | 32 oz. (35 oz. with battery) | 34 oz. (38 oz. with battery) |
| Display | 3.5" Color Display | 3.5" Color Display |
| Touchscreen | Yes | Yes |
| Scan Type | 3 Cross-Vector Lasers | 2 Cross-Vector Lasers |
| Laser Color | Red | Blue |
Specifications Common to Both Models
2 sets of 3 LED's, 5-Way Joystick and 2 Buttons

Wireless - 2.4GHz ZigBee module with ZigBee USB Stick for computer Cable - USB 2.0A to Mini 5-Pin USB, 6'

Horizontal Scanning Resolution

High capacity, rechargeable lithium-ion Inspired Energy series NB2037

LGTools, Windows™ compatible
HS761 and HS763 Multi-Stripe Sensors come standard with the following:
Sensor with standard sets of standoffs
2ea high-capacity batteries
1ea battery charger, ac adaptor, power cord
1ea 6' USB 2.0A to 5-pin mini B
1ea ZigBee® USB IEEE 802.15.4 communication module
1ea GFA-10 Calibration Check Block
USB drive containing LGTools communications software and manual
Hard-shell carrying case
1yr warranty on hardware and software
Packing List
Optional Accessories
Charging station
Holster
Standoffs
Included Software
LGTools – this application sends, retrieves, and formats data from a computer to the DSP Sensor via USB cable or ZigBee.